Dubliners demand Housing as PPP developers put on poor mouth

national | housing | feature

Tuesday May 27, 2008 01:18

by Paula Geraghty

mspgeraghty at yahoo dot ie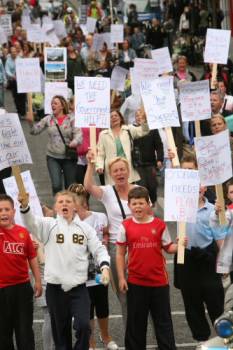 Hundreds take to the streets over the collapse of regeneration plans for some of the most marginalised communities in Dublin.
'We'll be back', promised residents of St Michael's Estate, O'Devaney Gardens, Sean McDermott St and Dominic Street at a protest held outside Dublin City Council at a special meeting held on the evening of May 26th. Plans to redevelop the areas collapsed when wealthy developer, Bernard McNamara, cried off because he wouldn't make enough money.
Previously on Indymedia: O'Devaney Gardens | St. Michael's Estate | Reclaiming Dominic Street
Property Developer, Bernard McNamara was awarded the tenders on 5 multimillion Euro Public Private Partnership projects to develop five areas of Dublin. Communities who saw little of the Celtic Tiger are the first to suffer from the lack of real development which would have meant better housing, community spaces, creches and mixed living dwellings. The private sector, which has been sold to us by the government as the only solution to our social needs, is unwilling to deliver and now residents are demanding that the Government steps in to fulfill the needs of their communities.
McNamaras are one of the biggest building developers in the state and are one of those who have made massive amounts of money on the backs of ordinary people in 'Celtic Tiger' Ireland. Bernard McNamara, head of the company, (who - not so coincidentally - was one of those hollering around the Dail Bar when Cowen was elected Taoiseach) has a personal wealth of €230million. The company had a turnover of €611million last year. Among the projects they are working on now are the €450million Elm Park residential and commercial development in Dublin 4, a 45-storey tower in Canary Wharf in London, the Burlington Hotel and a large apartment development in Galway. No sign of him to pull out of any of these projects.
If McNamara had begun the redevelopment 5 or 6 years ago and had ended up as a result of the Celtic Tiger making €50 or €100 million extra profit, would they have handed that windfall back to the Council or the local residents saying "we didn't expect to make this much?"
This will not be the last of these protests, watch this space.
images (c)