Charlie McCreevy's Brass Balls

national | elections / politics | feature

Wednesday March 24, 2004 22:05

by John McDermott - Remove Fianna Fail Party

Ashtown,Dublin
'The People have been Bought With Their Own Money'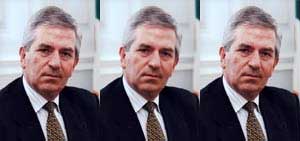 From the Newswire
Dear Sir or Madam,
Day after day they pop up in the Dail like Jack-In The Boxes with deviously amended 'press releases'..cleverly dressed up 'weasel words' to appease the anger of a gullible electorate. Bin taxes amended - 'more fair' etc (for now). Privatization ... but after the next election!
Charlie McCreevy has the brass balls (effrontery) to stand before the Dail and enunciate his alarm at the 100 million odd Euros cost of the various tribunals of enquiry into the corruption of his former associates and fellow T.D's in government. If he and his comrades were honorable men they would resign from government and allow an emergency caretaker coalition of the lack-lustre opposition to at least try and redeem the nations dignity in this..our country's darkest hour .
Stroke politics are pre-eminent. The people have been bought with their own money.
Liam Lawlor, and his like can sit there day after day like mocking court jesters,enjoying the expensive charade that they have summoned up to milk the decent taxpayers of this country dry over and over again.

The Princes of Fianna Fail watch from the sidelines - happy to deflect the anger of the people down the rambling by-ways and cul-de-sacs of Dublin Castle.
We live in an age once more where as far as Politics is concerned - 'The best have lost all hope, and the worst are filled with passionate intensity'.
John McDermott (RFFP), Ashtown, Dublin