Debunking the India Covid Surge Scare. Why It Is Used Now?

international | public consultation / irish social forum | opinion/analysis

Wednesday May 05, 2021 00:19

by 1 of indy
It is quite amazing just as Europe is beginning to ease lookdowns due to rising public impatience that a new scare comes along at just the right time for the governments trying to impose these pointless lockdowns for which there are over 37 peer reviewed scientific papers proving they do not work.

For the past few weeks, the 24x7 constant fear and propaganda has switched its focus to India to give us the impression that half country is dying. So Lets break down the figures and put things in context.
First up, perhaps people do not realize that the population of India is estimated to be just over 1,300 million people which is more than Europe. Life expectancy is 70 years of age. A check of the death rate figure (from 2014) in India gives a figure of approximately 7.35 per 1000. This works out then as:
7.35 x 1,300 x 1,000,000 / 1,000 = 7.35 x 1,300 x 1,000 = 9.55 million
That is 9.5 million die every year in India and this works out at (9,555,000/365) over 26,000 per day! For comparison, in Ireland on average 33,000 people die every year. So given India's population is 260 times larger, then it is not hard to see why.
If we listen to the mainstream news they announce 20 million cases. Cases as we know are pretty meaningless. It is well established the PCR test which is the main method used to detect "cases" suffers badly from false positives which range from a small percent up to over 90% if over 40+ cycles are used in the PCR test. At best they are a very rough guide to the underlying infection rate. A case does not mean you are ill and in fact the vast majority who test positive will not even be ill. The PCR test just like the masks is simply one of the main tools used by governments to maintain their narrative and justify their actions.
So parts of India have gone into lockdown as a result of hysterical propanganda and there are reports that people cannot get out to buy food or water and and at the moment the temperature in India has soared to 50 deg C. These sort of temperatures will put the body under extreme stress and highly lkely to kill you if you do not have access to water. People with heart conditions in this sort of heat are at serious risk.
Ivor Cummins has once again put together yet another short video to cover the statistics on the current situation in India which you can find at this new video hosting website odysee.com at
https://odysee.com/@IvorCummins:f/short-video-on-india-situation-what-does:4
A couple of screen shots have been taken from it. In the first image is shown the daily covid cases for the UK, Europe and India and you can see the two flu like seasonal spikes we had in Europe. All during this time Covid was in India and they have had NO lockdowns and NO mandatory facemasks and yet the surge of cases never really took over. In fact they have been using the widely available and highly effective drug, Ivermectin used to treat Covid, although in the West where governments have been captured by Big Pharma and Big Tech, very little information has got out about it nor is it used as widely.
The question that arises is this: Did India decide to ramp up it's Covid PCR testing in the last few weeks and is this what the rise we now see in the graph all about.
The second image, shows the cumulative death rate PER million for UK, Europe and India. Listening to the likes of Pravada or I mean RTE, you would think they were dropping dead like flies. Instead what we see from the data is that India has a far LOWER death rate per million than Europe & UK.
So this brings us back to the question of why are they turning on the fear? The unsaid implication seems to be suggesting maybe we should stay in lockdown because this is what our governments want. In case you hadn't noticed, they want you to get vaccinated and since all Western governments have been busy putting in their vaccines orders for 2022 and 2023, they want you to get vaccinated continually. Do you think there is something up?
A good example of the propaganda and outright lies is the next (3rd) image which shows a photo of someone dying on the streets as reported 11 months ago related to a gas leak in India. Then they re-used the same photo last week to claim people were dropping dead on the street from Covid. Guess what? They are lying. All this is is being used to terrorize the population, yet again. It is to terrorize you into taking the vaccine and more importantly signing up to the notion that to travel anywhere or go to a public event you have to show your vaccine, sorry Green Health passport.
In the last image, we see a tweet by India doctor Aseem Malhortra who calls out the tricks used by the Indian media when reporting Covid deaths. His tweet can be seen at: https://twitter.com/DrAseemMalhotra/status/1388764325570039811
Links
Link to 33 Peer Researched Papers Demonstrating Lockdowns do not work
https://thefatemperor.com/scientific-analyses-and-papers-on-lockdown-effectiveness/
Dr Michael Levitt
on PCR error rate:
https://twitter.com/MLevitt_NP2013/status/1387930264337190913
as shown in last image
Who is Dr. Levitt. He is Stanford Prof. of Biophysics, Cambridge PhD and DSc, 2013 Chemistry Nobel Laureate (complex systems), FRS & US National Academy member,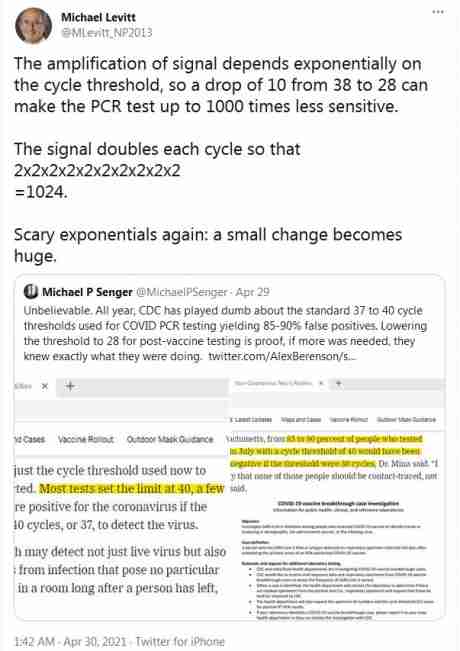 Dr Michael Levitt on the error rate with PCR test. The same test used to diagnose the largely meaningless "cases" and often used to claim someone died of Covid when they clearly died of the condition they were already dying from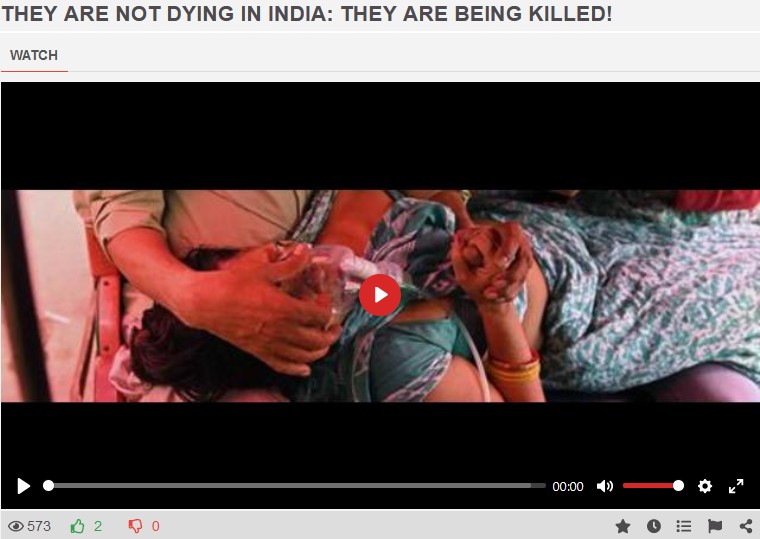 Caption: They Are Not Dying In India: They Are Being Killed!