Sweden's Covid-19 Case Remains Low while others Rise. Yet Death Rate is NOT Rising

international | health / disability issues | news report

Thursday September 17, 2020 00:00

by 1 of indy
Because they have herd immunity
The latest data for the number of Covid-19 cases per million is rising for the UK, Spain and France but is NOT for Sweden, Germany or Italy so far. However the death rate per million for even the countries with rising cases remains flat and low.
Given the Covid-19 PCR test is extremely unreliable and that the Covid-19 antibody test does not tell us much because once the antibody level falls after a few weeks it becomes undetectable so all it does is give a narrow window into who was infected in the last few weeks, one has to wonder at the true meaning of any of these statistics.
What we do know is that large numbers of people are unnecessarily terrorized daily by their respective governments and this now 6 month long terror campaign has put these people under tremendous stress and it is very likely causing heart damage, lowering people's immunity system due to high stress and leading to a wave of mental health problems and forcing the ridiculous wearing of masks where they were NEVER advised in Sweden and no lockdown occurred. People will often say that yes it is true Sweden had no lockdown but there death rate was 2 to 3 times higher than Ireland. The reason for that is despite having a population just over twice the Irish population, the number of people over 65 is three times the number in Ireland. When you take this into account then the death rate per million are statistically the same, proving that our lockdown did nothing to save lives other than create a wave of mental illness as a result of the lockdown, destroy the economy, and put about another €60 billion on the national debt which of course will be paid by cuts to those most vulnerable and taxes on everyone
Despite all the hype it should be remembered that in all countries at least 95% or more of the people who died were not only in old age but on average, at the average lifespan for a person in those countries.
If we look at the new deaths per million average weekly as presented in the second image, we can see that despite the rise of cases in some countries the death rate due to Covid-19 remains almost flat and extremely low.
What does this tell us about the rise in infections. What it really tells us is that Covid-19 is more widespread and has been exposed to far more people in the population even in countries that locked down and all the testing is doing is discovering that fact.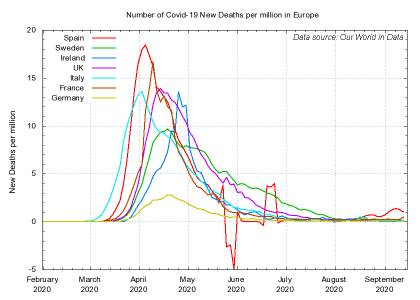 Consider this: When they say 200 new cases today, what is the reality of that? The reality is that in many cases the quantity of virus found is so low it is not even close to an infection level. It also means the same person has dealth with the infection and probably handled it without symptoms. It is also likely that the vast majority of any new cases present zero risk what so ever and most of these people are just fine. There would of course be a small percent, who have symptoms but these would be the usual ones of high temperature or a bit of a fever. Again the sort of thing you can get or experience from a wide range of illnesses. Only a tiny fraction if any will actually end up in hospital.
It is likely the authorities will say so many are in hospital but they will say this at the same time to give the impression they are from the "new" cases but any digging will very likely show that that are older cases. Another trick the media use is to say 80% are asymptomatic (i.e. no symptoms). The implication is that the other 20% are either in hospital ICU or dead. This of course is NOT the case. The other 20% are those who have symptoms such as feeling slightly unwell. The number of hospital in percentage terms will be tiny and the number of deaths will be smaller still.
Interestingly the graphic below shows how effective the fraudulent campaign has been against the drug hydroxychloroquine which is an effective treatment for Covid-19 most especially when given early. The reason for the campaign is that the drug is off patent and so very cheap and there are many pharmaceutical companies out there and their shrills who have competing but far more expensive products although still not quite developed or as safe. This was witnessed by the #LancetGate scandal earlier in the year.
In the graphic it shows the death rate was highest in those countries that banned the use of hydroxychloroquine , less so in countries where it was partially used and much lower in countries where the drug was used regularly.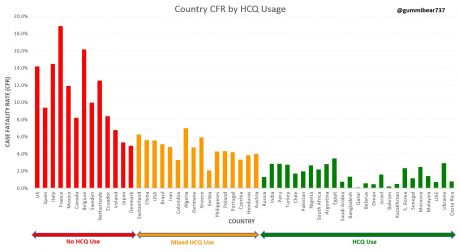 hydroxychloroquine use and death rates. Higher when not used. Lower when used.