Anti Environmental CETA Trade Agreement ratification approved despite protests

international | economics and finance | other press

Friday May 08, 2020 20:58

by 1 of indy
CETA helps undermine your rights and environmental protections and allow corporate rules to overrule national law
As another country ratifies the CETA trade agreement, the pressure will come on Ireland to do the same. The question that arises is where will the Greens stand on it as they ready themselves to get into power. Perhaps they will sell themselves out even before they get there.

The countries that have ratified CETA are Austria, Croatia, Czechia, Denmark, Estonia, Finland, Latvia, Lithuania, Malta, Portugal, Spain, Sweden, and now Luxembourg.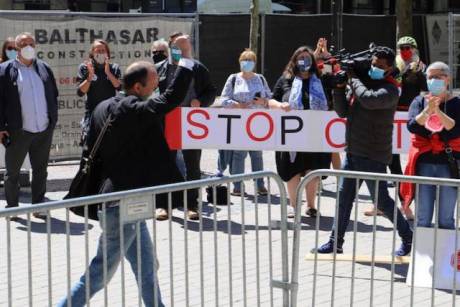 Anti Ceta protestors applaud Déi Lénk parliamentarian Marc Baum outside the Cercle Municipal on Wednesday afternoon. Photo: Chamber of Deputies via Twitter
Here's a brief excerpt carried on the ratification from Luxembourg


Members of parliament representing the three coalition parties, DP, LSAP and Déi Gréng, on Wednesday voted to formally adopt the Comprehensive Economic and Trade Agreement between the EU and Canada into Luxembourg law...

Wednesday's vote was marked by a walk out from CSV opposition deputies, after a motion to postpone the vote was dismissed the previous day. The eight MPs representing the Pirate party, Déi Lénk and the ADR voted against the bill. Déi Lénk had tweeted on Tuesday that the decision to go ahead with the vote was a "slap in the face for democracy."

During Wednesday's debate, CSV MP and former European Commissioner Viviane Reding addressed one of the main motions being adopted in the bill, the introduction of the so-called Investment Court System to replace the Investor-State Dispute Settlement scheme. The latter, she said, was "private justice" which gave big companies an advantage. But Déi Lénk's David Wagner remained unconvinced. He said that the ICS was an improvement on the ISDS but was retrogressive compared to the rule of law. "And a step backwards compared to the rule of law is now being interpreted as progress. I don't understand this at all," Wagner said.
The ISDS is a mechanism whereby a company can sue governments over things like environmental laws that get in the way of "competition" or health protections and even social protections. In countries where ISDS is in place, many environmental regulations have been rolled back and government sued for 100s of millions of Euros because of "loss of profit". An additional exciting feature of these ISDS mechanism is that they are held in secret, presided over by special corporate judges and they supercede national law. If that is not corporate takeover then what is?