Let's make Palestine an election issue: #PalestinePledges for #GE2020

national | elections / politics | news report

Monday February 03, 2020 22:17

by IPSC - Ireland Palestine Solidarity Campaign
The Ireland-Palestine Solidarity Campaign is asking our members and supporters to make justice for the Palestinian people an issue in the 2020 Irish General Election.

We have produced a short handout with three important issues to raise with canvassers on the doorsteps, or to contact candidates about, and have initiated a campaign asking the candidates to take our three #PalestinePledges in support of the Palestinian people's struggle for freedom, justice and equality.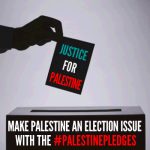 The handout contains questions and important information related to
Support for a ban on trade with Israel's illegal colonial settlements in Palestine
Support for an end to the Irish arms trade with Israel, and an end to EU funding of Israeli military manufactures
Support for free speech and protection of the right to engage in boycott, divestment and sanction campaigning
Please ask candidates to take the #PalestinePledges to help secure justice for the Palestinian people. Download the question sheet
You can download a Printable Colour PDF here or if you prefer, a Black & White PDF here.
We ask you to keep it handy for when candidates come looking for your vote, and make sure they know that the Irish government's attitude toward Palestine is an important issue for voters in Ireland!
The #PalestinePledges
The IPSC is calling on candidates in the General Election to pledge to support justice for Palestine. In a call sent to the hundreds of candidates in 39 constituencies we have asked aspiring TDs to make three pledges to support concrete actions to help secure freedom, justice and equality for the Palestinian people if elected to Dáil Éireann.
The campaign is asking candidates to publicly commit to three promises, the #PalestinePledges. Responses will be published on this page so that all voters concerned with Palestine can with have an informed opinion about where candidates stand on the issue of justice for the Palestinian people. The asks are as follows:
1 – The Illegal Settlements Pledge: "I believe that no one should profit from Israel's occupation of Palestine, and, if elected to Dáil Éireann, I pledge to support and vote in favour of the 'Occupied Territories Bill' which will prohibit the import and sale of goods, services and natural resources originating in Israel's illegal settlements in Palestine. Further I pledge to support the call for an EU-wide ban on trade with the settlements."



2 – The Arms Trade Pledge: "I believe that no one should profit from the deaths, maiming and continued subjugation of Palestinians, and, if elected to Dáil Éireann, I pledge to actively work to end the bilateral arms trade between Ireland and Israel, and to support the exclusion of Israeli arms manufacturers and other military companies from EU Research Programs and EU contracts."



3 – The Free Speech Pledge: "I believe no one should be silenced for advocating for human, civil, national, political or economic rights, and, if elected to Dáil Éireann, I pledge to protect the right of people to free speech, including the right to engage in the non-violent Boycott, Divestment and Sanctions (BDS) campaign. I pledge to act against any attempts to suppress or criminalise Palestine solidarity activism."
Who has taken the #PalestinePledges?
The following parties have endorsed all three pledges: the Green Party, People Before Profit, Rise, Sinn Féin, Solidarity, and The Workers' Party. You can see individual candidates' responses below.
Fianna Fail's Election Manifesto states that the party commits to "progress[ing] the Occupied Territories bill".
See https://www.ipsc.ie/elections/palestinepledges-for-ge20-make-palestine-an-election-issue for the full list of election candidates and whether they have made the pledge

2020gea4bw.pdf 3.62 Mb

2020gea4colour.pdf 0.44 Mb