The big man protecting the little woman - response to Miriam Lord on Mairia Cahill and Gerry Adams

national | rights, freedoms and repression | news report

Wednesday November 05, 2014 13:14

by Peter Simple
Mairia Cahill, Enda Kenny and a story that seemed simple, but is not (written October 23rd)
A response to Miriam Lord in the Irish Times 23 October 2014:
http://www.irishtimes.com/news/politics/oireachtas/this...73438

The big man protecting the little woman. That explains the sexist picture dominating the Irish Times front page on 23 October, of Taoiseach Enda Kenny looking out for Mairia Cahill.

In our patriarchal society men hold the material and physical upper hand. Women often fight back with emotional and psychological weapons. These are being exploited in this fight, but not by men on the one side and women on the other, but by men and women on both sides.

The spouse of First Minister Peter Robinson, Iris, was in an exploitative relationship with a younger man. He is forgotten (I forget his face and name), while Mrs Robinson was publicly rehabilitated by President Mary McAleese and the Queen of England at a live televised public event in Dublin. She received therapy and expiated her sins, while he was left to his own devices. Who cares, f**k him.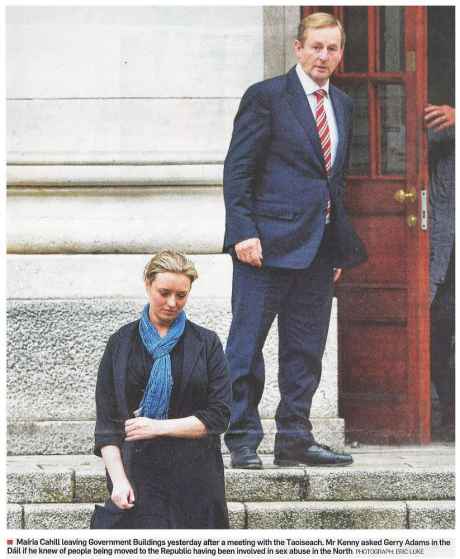 Big man protects little woman - Enda Kenny and Mairia Cahill (Irish Times front page 23 October 2014)
Power, gender, ethnicity and class

The Robinsons are part of the ruling establishment, those expected to rule the sectarian dysfunctional state of Northern Ireland. The story of Mairia Cahill and her alleged rapist (whose name also is not lodged in my consciousness, though his negative media image is) is about the dispossessed Catholic working class, those who fought and died for the right to rule, who exist in Northern Ireland on sufferance for reasons of ethnicity.

The middle class media and the ruling class political establishment is choosing innocent and guilty victims. For the south, the guilty victims won. They are to be persecuted if not prosecuted. It is politics in which the narrative is carefully managed and in which Sinn Féin's opponents are having their egos daily massaged.

Mairia Cahill was in an abusive yearlong relationship with an older man that began, it is alleged, with a rape attack when she was sixteen and asleep. Because he was a member of the IRA, the IRA is implicated. They have become responsible, because they were an illegal but also, more importantly, a quasi-state organisation. The IRA was expected to police their own members and was under pressure from communities who rejected sectarian state policing to police them also. Such methods were, inevitably, brutal.

When the 1997 incident involving Máiria Cahill came to the attention of the IRA (because she told republican women about it), they appear, post ceasefire, to have adopted a different approach. This methodology failed Mairia. So too did the later state-centered investigation. She withdrew charges for motives not yet clear, apart from stating (on the recent BBC NI documentary) that she was perturbed when a particular individual appeared in court to give evidence for the defense.

Mairia left court and entered the court of public opinion, where things are very much weighted in her favour, institutionally through the media. She is experiencing a cathartic recognition she did not achieve in previous attempts to deal with this issue. Anger and resentment are focused on the establishment's political enemy number one, Sinn Féin, and its leader.

The political establishment wants to get rid of Gerry Adams because of the tradition he represents. Those 'dissidents' who oppose him want to get rid of him because it is a tradition they say he betrayed. That is why this incident, and the previous arrest over the Boston tapes fiasco, set up a perfect storm. In this fight, there is no blow too low.

That 'illegal' point above with regard to the IRA is important. The IRA are accused of 'covering up' sexual abuse. That is, in a certain sense, meaningless, like calling the IRA 'shadowy' (it was, of necessity). The IRA covered everything up, apart from shooting and bombing.

Those currently accused of attempting to resolve the issue some years ago can't respond because, irrespective of whether they acted with good or bad motives, they cannot talk. They will go to jail if they do. Maybe one should sacrifice him/herself, put the record straight from their point of view, and challenge the authorities to come after them.

In their absence we have instead the leader of Sinn Féin and of most Irish republicans, who must bear all the actual and imagined sins of the IRA (and its individual members) on his shoulders.

One republican woman, Jennifer McCann, one of a number who talked with Mairia Cahill, is available to speak, but the media are not that interested. At least Cathal MacCoille was at pains to explain why loudly on Morning Ireland (RTÉ Radio One, 23 October). He wanted to talk instead to someone who was not available (a solicitor), and anyway, he said, she was on Prime Time. MacCoille was more than usually animated in his attempts to talk over interviewee Peadar Toibín TD. The script was being challenged. It is unconscious class and political prejudice on McCoille's part. For the audience he sounded shrill and silly. That gets them thinking, what's this about?

This is what it is about, not what Miriam Lord wrote, cleverly.

THE END

Since I wrote the above (and placed (buried?) it in the comments section after Lord's Irish Times story), those accused by Mairia Cahill have spoken.

Initially their solicitor, Peter Madden (of Madden and Finucane) spoke on Morning Ireland on 3rd November (attached and linked here):
http://www.rte.ie/radio/utils/radioplayer/rteradioweb.html#!rii=9:20673835:0::

Yesterday, one of those accused, Breige Wright put about a statement stating, 'My intent was to try to help Mairia. I believe that these letters [From Mairia Cahill to Breige Wright, attached here) demonstrate that Mairia accepted and valued that support.'

Read all the information out there, not just some of it.

Peter Madden Gavin Jennings (Mairia Cahill) Morning Ireland 3 November 2014
4.62 Mb

Press Statement of Breige Wright on Mairia Cahill allegations
0.08 Mb

Mairia Cahill letters to Breige Wright
1.14 Mb

Peter madden Gavin Jennings (Mairia Cahill) Morning Ireland 3 November 2014