Ireland.com Free Webmail is Being Shut Down. Considering Alternatives Raises Many Questions.

national | rights, freedoms and repression | news report

Tuesday October 16, 2012 20:15

by T
Email monopolies. The big 3 gmail, yahoo and hotmail
With the closure of Ireland.com free email service, considering the alternatives automatically raises the questions of how safe is our email, who is reading it, what power does it give to those hosting it and when it comes to comes to the likes of gmail with over 400 million accounts, do we have any privacy left and is Big Brother already well and truly established.
This week Ireland.com announced the closure of their Email service which is thought to affect 15,000 subscribers. This of course is just a drop in the ocean compared to the likes of gmail or yahoo. However all of these people were presumably happy with their accounts and with the fact that the domain name essentially advertised that they were based in Ireland. This fact alone would have been very useful to people who had businesses or just plain personal accounts, and presumably these accounts were used for things varying from receiving online bills, banking emails, revenue and legal correspondence, booking flights, holidays to personal emails, exchange of photos, documents and the like.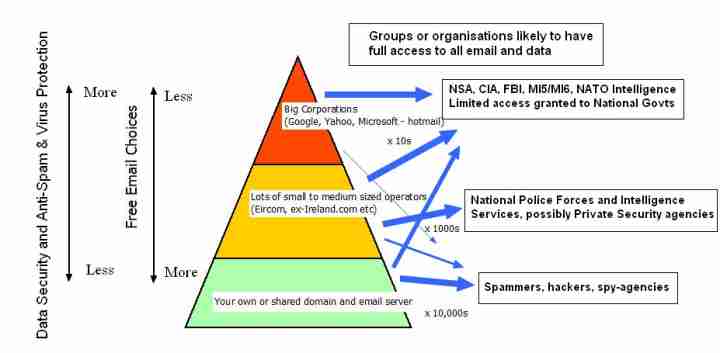 The choice now facing these people is now; where do they go. When you look around there are few very choices based at
ie
domains. The only ones that come to mind are eircom.net which many users have complained in the past about problems with email delivery possibly due to temporary blacklisting because of spammers using accounts there, although this problem is common to all sites that carry email traffic. The only other sites noted are prv.ie whose website is extremely vague and a pay-for service called topmail.ie (owned by Top Security) although it offers a tiny amount of space for free and then there is Register365 again with a tiny amount free, but more for a fee.
Then you are left with going to the big three of gmail, Yahoo and Microsoft's hotmail. When you consider these, it is very likely that 90% of the people you know who have free webmail accounts, have an account with one of these three. They each have hundreds of millions of users each and as of June 2012, it was estimated gmail has 425 million users and this is probably and underestimate and the other 2 are probably similar.
When you think about this just in term of this country, suppose some Irish business man owned a free email service and had say 1 million Irish subscribers. That would be roughly 25% of the population. We would also be trusting of his company that our emails are secure and not being read, (although Google freely admits it has software bots reading all their emails all the time for the purposes of marketing and advertising) then one has to consider what if this person was say a banker, a member of Fianna Fail, or developer, gangster, fraudster, right-winger or anything else. We all know this is a small country and having access to many of the private details of one in four people would automatically put you in all the formal and informal closed groups of everyone in this country across all spectra whether that be political, business or private lives. Had such a situation existed in the past 10 years, then in theory this level of access would grant that person enormous power for financial and political gain because one would have very likely been privy to most of the political scandals during that time and others that never made it to the public domain; being privy to inside information of all sorts of business and finance deals and of course huge opportunities for other types of gains based on things like who is doing what, where, with whom or without and all those things that are simply private matters. You would know who owns what, meets with, is friends with, has relationships with, does business with and so on.
However while the above is hypothetical in the sense of an Irish person or company running the free email service, this scenario is real in the sense that Google (or Yahoo) probably has of the order of close to one million accounts of Irish people and thus does have access to the above speculated information. It can be argued that because these are big companies, with huge resources they have the wherewithal to securely store this information and in terms of service there is no doubt, that your emails with them is replicated and backed-up from threat of disk failure, that access is structured and limited to those only authorized and they offer facilities, and services second to none, from quantity of disk space, to anti-spam and virus protection to search capabilities, indexing and global access. It would be hard for a small firm to provide these services and for free because in today's world you need a certain level of skill and expertise to be able to even have the knowledge and experience to provide all these. And that in many ways is the deal we all cut with the big three when we sign-up to take an email account with them although I suspect few people really think hard about how much privacy they are handing over or the multiplier effect of the millions doing it. Nor do we have very many choices for such a useful service that has now become part and parcel of our daily levels.
The alternatives, some of which are not really alternatives, are to use your work email. Practically no-one these days would use their work email address for personal use, except maybe those with their own businesses. The other alternatives are to spend time hunting down other free email service providers but chances are they may not be as good or maybe people feel the email domain would not reflect on them such as @freestuff.com or similar. No, the only choices are to setup your own domain and manage it yourself except that this is entirely impractical and beyond the technical ability or even desire of the vast majority of people. So it looks like we are left with the likes of Telephone companies, or a few small private companies already mentioned. In which case it all gets back to trust.
These general choices are illustrated in the Figure 1. When we look at who is most likely to have access to the data, on an institutional level and one where we trust authority (which is always a dangerous thing), we see as we go towards the huge global corporations with 100s of millions of email accounts, that the only people likely to have access are the agencies of the USA government (since these are US companies) and the UK government, because they have extensive data sharing agreements and rights of access through the
Echelon
programme or their updated equivalents. This is not to say other governments don't have any access since the intelligence agencies of most of the largest and most powerful countries do monitor and spy on their citizens communications. (e.g. China, Russia, France, Germany, Spain, Belgium, Sweden, Italy, and most others). It should also be clear that the spaghetti soup of spy agencies are more than capable of intercepting emails on their national networks and do, which means setting up your own site does not make you immune. The difference though it is harder for the intelligence state to manage gaining access to tens of thousands of separate servers than the case where with direct access to company data with 100s of millions of subscribers, the task is essentially handed to them on a plate and makes data mining and trawling exceptionally easy.
Now most people consider that they do nothing wrong and have nothing to hide and therefore none of these points are of concern. But on the point of privacy alone and Big Brother issues they do matter, especially when the day comes and you want to make your voice heard politically for whatever reason.
For those considering setting up their own domains with email servers, it turns out that renting a server and getting a domain name are relatively cheap. And the pieces of software infrastruture to do it are free. For example to setup an email server, you might need something like
PostFix email server
(free),
Dovecot
(free),
Apache server
for the web-server (free),
SquirrelMail
for the webmail interface (free), or an email client on your PC like
Thunderbird
(free). Outlook can work too. It is true that it needs some technical knowledge to install these and set them up, but it is not impossible. There are many other tools available and apparently Google supplies an set of applications to do much of this for you, but then it gets back to the trust of Google. How do you know the apps are not sending copies of all emails to some Google server somewhere?
Its likely though that the present trend will continue and the top sites will continue to dominate and in this we are exposing ourselves because it is not a case of a Big Brother in the future. It is in place now. All the pieces are already in place and have been for sometime. We have to ask ourselves, if you lived in Russia would you want the KGB to be able to read every email you ever wrote with ease and access any photo or document you ever sent by email. Likewise for Chinese people. In the 'free' West, we have placed all this data at the feet of the US government and their spy agencies. These are the same forces that gave us several wars of aggression, the striping of almost all citizen rights in their own country and legalized the spying on telephone conversations and emails of US citizens. For non-US citizens the rights have always been a lot less. And consider the leverage this information gives the US government to act as a lever with the Irish government when they go knocking on their door for help with access to someone's account they happen to be investigating. It also gives the US govt apparatus the capability to see into the private lives and state of affairs of this country and to be aware of every detail that is of importance to them. This is not a level playing field by any means.
The effect of going from 10,000s of sites offering email to a handful, is more than the sum of the subscribers, it amplifies it greatly. Just like centralisation of governments sucking power from local governments and just like the way the EU super-state has taken power and sovereignty from national governments to Brussels or ECB headquarters, so it is with the domination of free email services with these large corporations whereby they automatically gain enormous power, and we and our governments to a certain extent lose that power. It appears the ants in the colony are unaware of the unfolding dynamics of the colony itself and are oblivious to the larger evolutionary forces. In our case these forces are the ones driving us towards a technocratic tyranny.